Verlander will be 27 in 2010. He's got a 65-43 career record, having won 19 games last year, a year after losing 17 (post-season hangovers?, but not the Cabrera kind). He's started no fewer than 30 games in his first four full years in the Bigs, pitching in 200+ innings the last three years, including 240 IP last year. He lead the AL in strike outs with 269 and finished a respectable 3rd in Cy Young voting.
My checklist:
Young? CHECK
Durable? CHECK
Ability to miss bats? CHECK
Bulldog mentality? CHECK
Staff ace? CHECK
Accountable? CHECK
And he's still in the arbitration zone, according to Cot's Contracts. Someone's due for a HUGE raise and contract. How come we're not hearing his name that much in the rumor mills*? What am I missing?
This is a guy the Yanks or Sox would kill each other to get. And they'd be justified in doing so.
Here's a bit from MLBTR on Verlander:
Dombrowski indicated that no player on his team is untouchable, but "there are some on our club that we want to hold on to." He also added that there was more trade talk at the GM meetings this year than in previous years.
The team obviously wants to keep Justin Verlander around for a long time, but Dombrowski wouldn't comment about the possibility of locking him up to a long-term deal. "I won't get into that because that is best kept internal," he said. Verlander can become a free agent after the 2011 season.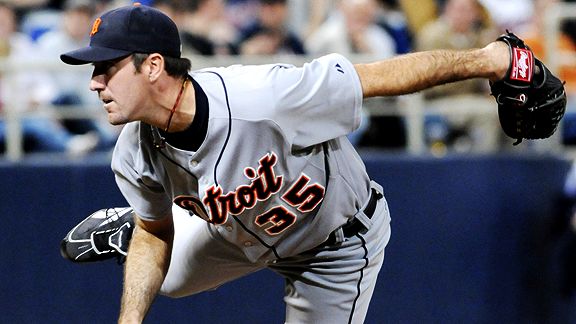 *Thanks to my buddy JoeOrange for continually asking me this question