Yesterday at River Ave. Blues, Ben Kabak did a good job at breaking down a shoddy John Harper B-Jobber article. Both Moshe and I were planning on doing something like this, but Ben beat us to it and did a great job.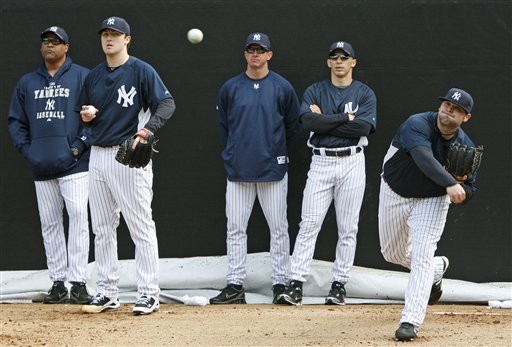 Instead of talking about the article now, though, I'd like to discuss the Joba/5th starter situation, and in more general terms.
First off, I know everyone–from Cashman, to Girardi, to Eiland, to Joba, to Hughes–has said that the fifth starter competition is just that: a competition. I don't believe this for more than…five seconds. This job is Joba's to lose. Obviously, the Yankees can't come out and say that. It could send a bad message to the other players and it could lead to a sense of complacency in Chamberlain. Perhaps the Yankees are "gun shy" after guaranteeing roles to Hughes and Ian Kennedy before the '08 season. The results were rather ugly, so the Yankees have to at least put on the air of competition. But, in reality, the only way Joba isn't the fifth starter to start the year is if he either completely loses it in Spring Training (like, Ankiel style) or gets injured. Neither one of those things seem likely.
The biggest reason that this isn't a competition is because out of himself, Hughes, Aceves, Gaudin, and Mitre, Chamberlain is the only one to throw a full season last year. After that, it makes absolutely no sense to reduce his innings (unless he's injured). The Yankees have put a lot of time and effort into securing Chamberlain's future as a starter, even if they haven't done it perfectly.
In 2007, the Yankees called Chamberlain up to pitch in the Major Leagues, even though he'd pitched fewer than 90 innings in the minors. The reason they did this was two fold: Chamberlain was approaching an innings limit and the Yankees needed bullpen help for the late season pushed. Obviously both things worked; Chamberlain's innings were limited and he pitched brilliantly out of the bullpen. Of course, this got people talking. They said Chamberlain should be groomed as the eventual replacement for closer Mariano Rivera when the time came for him to retire. The Yankees, however, said that Chamberlain would remain a starter.
2008 is where things took a bit of a negative turn. 2008 saw the Yankees put two young starters in the rotation. The only problem was that neither one of them was Joba Chamberlain. He started 2008 off in the bullpen, only to be converted to a starter later that year. While he pitched brilliantly as a starter in that brief time, he eventually suffered an injury and returned to relieving after coming off of the disabled list. As a result, Chamberlain pitched only 100.1 innings in 2008. This short sighted move set Chamberlain back an entire year. With the injury and limited amount of starts, Joba actually pitched fewer innings in 2008 than he did in 2009.
Two routes could've, and should've, been taken to avoid this measure: either Chamberlain should've been allowed to compete with Hughes and Kennedy for a rotation spot or he should've started the year in Scranton, building up innings (and this is exactly what I want the Yankees to do with Phil Hughes). Then, he could've built up innings from the 112.1 he pitched in 2007 and could've been uncapped in terms of innings in 2009. Instead, poor planning an in jury set Joba back a full year.
Putting Chamberlain in the bullpen in 2008 set a bad precedent that was carried out again in 2009 when Phil Hughes was placed in the bullpen after a panic move, Chien-Ming Wang being hastily reactivated after a line drive hit Joba, even though he had been pitching decently in his previous starts. Because he wasn't sent back to Scranton to start, Hughes pitched fewer innings than the Yankees had expected. If Hughes pitches out of the bullpen again in 2010, it's unlikely he pitches more than 80 innings and will then be four years removed from his previous innings high of ~147 in 2006. That would not be desirable, as Hughes will likely be looked at to start in 2011. But, this piece is supposed to be about Joba, so let's get back to him.
Now, this has seemed rather critical of the Yankees and maybe it should be. They did some things with Joba that I didn't like. However, they seem to realize that developing him as a starter is the best thing they can do for him and, more importantly, for the organization. Consistently, they've stayed above the mediotic fray and stuck to the plan of keep Joba on the path to ace-dom. After 2009, it's clear that it won't be as easy as we all want it to be. Realizing potential that high is a process and Chamberlain still needs to take some more steps to get there. Joba clearly has the talent to arrive at the top of the Yankee rotation and with the application of hard work in 2010, he will come even closer to attaining that goal.