2.       An explanation for your prediction in (1) above, focusing on what you think will change the most on-the-field from 2009 to 2010.
Will: There are two sides to this fight. One, is Brian Cashman's effective allocation of resources–which he has done masterfully this offseason. The pitching staff going into 2010 is FAR better than the staff was going into 2009. Vazquez was the 2nd best pitcher in the National League last year by FIP (best, if you normalize for HRs via xFIP…that's right, he beat out Tiny Tim). Defensively the team is much improved with Granderson and Gardner filling in for Melky and Damon (this is a lot more important than most people figure). Offensively, as we showed earlier this offseason, the team is going to be a lot stronger with Granderson and Nick Johnson filling Matsui and Damon's spots–and additionally, we have a full season of A-Rod, who missed one month fully on the DL, but wasn't up to his own standards for a good portion of his time off the DL either. On paper, there's no place this team is worse off. Heck, even Chan Ho Park is a good addition (I know, this surprised me too when I took a look into his performance last year). The one spot where, ignoring age, we're likely to see a bit of regression is Cano (I don't expect him to fall off a cliff, I just don't know if I'd pencil in his performance of last year without a healthy dose of skepticism. We'll see.)
The other side of the fight is age. Posada, Jeter, Pettitte and Mo are each one year older, and all good things must come to an end. Will it be this be the year for one or more? The answer is likely yes–it's tough to believe that all four will continue trucking along. My best guess would be that any issues here center on Posada's legs behind the plate (forcing him to DH more often) or Pettitte. Mo is in a position where his work can be regulated, as the Yankees' bullpen is quite strong, and there are likely to be periods where we simply don't have many games where we're within 3 runs in the last inning. Jeter will probably never perform quite as well as he did in 2009 again, but that's a HIGH hurdle to reach–Jeter was the 3rd most valuable player in the AL last season, behind Mauer and (gasp) Ben Zobrist; and his renaissance year included a huge rebound in defense. Bet against Jeter at your own peril.
TCM: Despite the loss of Damon and Matsui, the Yankees are just a bit better this year than last year.  Their rotation is more solid, and their bullpen remains tight.  Their OF defense will be vastly improved by swapping out Damon and Melky for Granderson and Gardner.  That said, everyone is a little older, and more likely to miss a few games with the aches and pains of age.  What's more, the Rays are likely to improve and see this as a chance to go for broke before Crawford bolts to the Yankees or Mets next year, and Boston's better too (and probably had a slightly better offseason).  The Yanks are still going to beat up on the O's and Jays, but there's no way they go 7-0 vs. Minnesota again.  It all adds up to a regression, and they'll be passed by either the Rays or Red Sox.  I have a hard time picking against the Yankees when they'll go up against the Angels or Twins in Round 1, but it's simply not smart money to take a specific team over the field in the playoffs.  So I'll make the smart play and say the Yanks will lose in the ALCS to somebody.  Because I'm an unabashed homer, let's say, um…Minnesota.
Mark: Hideki Matsui and Johnny Damon produced almost 6 WAR between them, and they're in their decline years and should decline, especially in their new pitcher-friendly environments. Brian Cashman ably replaced them with Curtis Granderson, who was worth 3.4 WAR in a "bad" season, and Nick Johnson, who was worth 21 runs (roughly 2 WAR) of offense. What I'm trying to get at is that they replaced the position player production, and that doesn't even mention that they added Javy Vazquez, who has been worth at least 5 WAR over the past four seasons. Even if you think losing Melky Cabrera (1.7 WAR) as well was bad (I don't imagine there are too many of you), the Yankees added enough production and upside to have a repeat of 2009. New faces, same result.
Larry: The Yankees are slow starters.  Here's a sobering statistic: in each of 2007, 2008, and 2009, the Yankees started the season with an identical 14-16 won-loss record.  The difference in these seasons was how well the Yankees played after their slow starts.  In 2008, the Yankees won at about a 92 win per season clip after the first 30 games, and they missed the playoffs.  In 2009, the Yankees won at an impressive 110 win per season rate after their slow start, and they won it all.  I don't see how the 2010 team can sustain a 110 win per season rate, not with the mileage on key team components (Pettitte, Rivera, Jeter, Posada).  I think we'd all be thrilled if the Yankees could win at a 97 win per season clip after a slow start – like they did in 2007.  This is why I'm projecting 2007-like results for 2010 – including a 2010-like post-season result.  
Tamar: I really am not big on predicting things, because I start to think about all the possibilities. What if CC or Mo or the entire infield gets injured? What if Tampa Bay reverts back to 2008? Since I can't really be sure about all the unknowns, I tend to fall back on my general optimism when it comes to the Yankees. This team does have a solid chance at repeating, but the season is long and any number of things can happen. My knowledge of the National League, I have to admit, is not stellar at this point in time, so I picked the Braves mostly because I think it'd be fun to relive some of the fun that was the 90s (unlike the more disturbing aspects of the 90s…like the Backstreet Boys).
Jason: I have a strong pessimistic streak in my body.  That leads me to wonder if this is the year that the wheels fall of Jeter, Mo, Posada, Pettitte.  Hell, Nick Johnson doesn't even have wheels left.  I think Jeter and Mo will be close to their usual selves, though I wonder if Jeter can be that good again.  Posada, who knows?  Does he have that ability, like Jeter did last year, to turn around a multi-year trend?  Catchers in their late-30's don't tend to be improving or gaining health.  I fear that Pettitte will hit the wall, allowing Joba to make 15 starts combined.
–
3.       Predictions for the performance of the four players we've discussed most during the post-season: Granderson, Gardner, Hughes and Joba.
Will: Granderson will be a beast this season. He'll bounce back slightly against lefties (meaning he'll suck a bit less, but still pretty significantly–there's just not much room for him to get worse there), but given his batting tendencies and the short right porch, he'll have a month or two where people will start questioning whether he could make it to 40 HRs. The average will hurt a bit, probably around .260-.265, and he'll strike out a lot, but let's be honest. Chicks dig the long ball. Between his power and his defense, he's a HUGE upgrade.
TCM: While it's a mistake to say that Comerica Park is a pitcher's park (it's actually a good hitters' park, just a bad home run park), it was a bad park for a hitter like Granderson, who hits a lot of fly balls (last year's GB/FB ratio for Granderson was .60).  And while New Yankee Stadium was a relatively poor hitters park last year, it does seem to be a place where fly balls to RF carry.  That suits Granderson's game perfectly, even though his GB/FB will regress somewhat.  I like a strong rebound from Granderson.  Something like .270/.360/.520 with 30-35 homers, and maybe some MVP talk.
Mark: Granderson should be improved from last season, and while his 2007 (7.3 WAR) is a bit too much to expect, 5 WAR isn't (his BABIP was 50 points lower last year than his career number!).
Larry: I think he'll play at about his statistical average (.272/.344/.484/.828 avg/obp/slg/ops) – and we'll be happy to have him.  I think Granderson's rough edges will even out – we'll see that last year's drop in his numbers was a fluke, and that he can hit left-handed pitching better than he's shown in the past.  He'll be an upgrade over Cabrera.  He'll make the highlights every other week with a great catch in center field, and otherwise we'll mostly not notice him.  He will not produce the home-run-to-right power we're all hoping to see, and he'll not produce must-see at-bats like a Jeter, Rodriguez or Teixeira.
Tamar: I am excited to watch Granderson this year. I definitely expect him to improve over his disappointing 2009, but I don't know that it will be night and day. I think that Granderson will steadily improve as the season progresses and as he adjusts to his new digs. His splits against left-handers will be better than last season, but leaving some room for improvement. Overall, Granderson will prove to be a big upgrade for the Yankee outfield, leaving Detroit wondering how they managed to end up swapping him for the more expensive Johnny Damon.
Jason: Gotta say, I am as excited to see Granderson play as I have for any player in some time, including CC and Teixeira heading into last season. Like the others, I think 30 HR should come rather easily and there should be some correction in his ability to hit lefties. Will he be too pull-happy and try to yank everything down the line, like Damon did last year, or will he use the whole field and benefit from his speed? What I do want to see is his defense.  Are his routes as bad as some in Tigerville claim?  Either way, the team has a new fan favorite and for that, I am psyched.
–
Will: Gardner will surprise everyone with his OBP this season. I'm looking for a .345-.350 range, with minimal power and a batting average around .280. He's got loads of speed, so look to see him test 50 steals. And his defense is out of this world. Against pitchers with serious fastballs, he'll be just about powerless, but against everyone else he'll be fine. Having looked at a LOT of pitch charts, Brett Gardner has been subject to some of the worst called strikeouts I've seen (in terms of the umpires giving pitchers strikes off the plate or low). I don't expect that to continue, and as things even out, we'll see some solid improvement.
TCM: I have to say, I don't really give a damn about Brett Gardner.  He's a placeholder until they go after Carl Crawford or Jayson Werth this offseason, or somebody's midseason castoff.  I like his stellar defense, but he's otherwise pretty nondescript.  He'll be exposed vs. LHP more this year, and will probably end up somewhere like .260/.325/.350.
Mark: Gardner is what he is, but that's not a bad thing. His walk rate (9.2% last season, up from 5.7 the previous season) is trending up, and his BABIP wasn't out of whack. Expect stellar defense, and he should be a lot like last season but in more games.
Larry: I think he'll also play at his statistical average (.270/.345/.379/.724), essentially producing Granderson-like numbers without the power – and I think that the average fan will regret that we let Damon get away.  I think that most people (and maybe Girardi) will fail to appreciate Gardner's true value, in the field and on the bases.  I think that by mid-season, Gardner will be a part-time player, and that the Yankees will suffer as a result.
Tamar: I am still skeptical about Gardner. Until he can prove that he can consistently get on base, I really don't care how fast he runs. His speed is useless if he isn't at least making it to first. If he can find ways to get on, I think Gardner is finally starting to put his speed to good use. He has shown some smart baserunning in the spring and can definitely be a game changer. His bat leaves much to be desired, but his speed and defense are hard to ignore. I do not expect him to have an eye-opening year in 2010, but I think he will be acceptable.
Jason: I know what I want Gardner to be (Ellsbury-lite, or Ellsbury-like).  Can he hit enough?  Well, though it's a small sample size, he's a better defender so moving to leftfield won't be a worry.  I really want to see him utilizing the bunt and hitting to the opposite field to really challenge the defense and the opposing pitchers.  If he can get on base north of 34% of the time, he could steal 40. 
–
JOBA:
Will: Joba is back to the bullpen, but won't be the firebreather he was in 2007. Sorry, that's just how it is. Then again, at that point he was essentially the best reliever in baseball not named Nathan–look for him to struggle early on, but find himself midseason and become the righty setup man in the pen.
TCM: I have no idea.  Look, if his head's on straight, he'll throw fire all year from the pen and end up like a vintage Goose Gossage (say, the 1980 version), without the saves.  If he's pissed off and unfocused, I could see him becoming Brad Lidge in 2006, with a lot of Ks but a lot of mistakes that become souvinirs.  So he either pitches 100 innings, with, like 110 Ks and a 2.20 ERA or pitches 65 innings with 70 Ks and a 4.80.  Good luck, Yankee fans.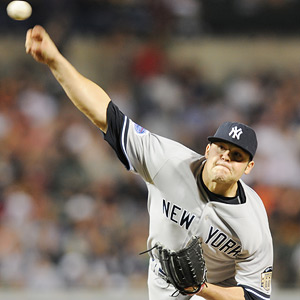 Mark: As for Joba, we can all imagine what might have been, but as a reliever, his FIP will come in around 2.40 in about 70 innings. Honestly, I like all of these guys, but I'm really bullish on Granderson and guardedly optimistic about the others. Ask me about AJ Burnett, and I'll have a much different outlook.
Tamar: Joba is a hard one to figure out. He has the potential to be a great weapon out of the pen, but you have to wonder how much the back-and-forth has hurt the mental aspect of his game. My inner optimist expects him to be a solid setup man for the Yankees, albeit not as devastating as he was when he first came to the Bronx. Sticking to one plan should help him, and I would think that as the Yankees get further into the season, the more he will flourish in the bullpen.
Jason: Joba, Joba, Joba.  As I said above, I think Joba winds up making some 15 starts, if not a few more, due to injury (Pettitte, maybe Burnett) and due to the team trying to reign in Hughes innings/appearances.  Net/net, a 4.30 ERA with a K an inning and a too-high WHIP of 1.35ish over some 140 IP (60 as a RP, 80 as a SP). And plenty of huffing and puffing from the columnists in the rags.
–
Will: This one's tough. Frankly, I don't know what to expect. I'd love to say he'll repeat his performance of last season, but out of the rotation–but then he'd be the best pitcher in baseball. Unlikely, that.
I think he'll sit around league average, with a game or two that let us dream, where he strikes out double digits, walks none and allows two or three hits over seven innings. Most of the time, though, towards the end of his outings he'll tire. It's just a hard thing to do, going from relieving to throwing 100 pitches a night. It'll take some time, and the rules will weigh on him as they did on Joba. Tons of upside here, though.
TCM: Hughes is going to struggle off the bat as he stretches himself back out.  But I also think he learned how to pitch in the big leagues in the pen last year, and that he'll top his 2007 performance.   I think he'll get 25 starts or so, and pitch 135-140 innings with an ERA hovering around 4.00.  His K/9 will settle in around 8, but his HR/9 and BB/9 will rise as he tires at the end of his performances.  As long as the Yankees manage him well, I see no red flags here, other than making sure he doesn't overextend himself.
Mark: Bill James is bullish on Hughes FIP-wise (3.35) but not innings-wise (121), but I'll go for 150 innings of a 4.15 FIP – not bad at all.
Larry: (7-9, 3.90 ERA, 1.25 WHIP). The statistics will show Hughes pitching better than Vasquez, but he won't have the results to show it.  He'll show flashes of brilliance – a couple of one and two-hit games.  He'll pitch a bunch of games into the sixth or seventh inning where he'll dominate, except that he'll allow 4 runs in a single inning and leave with an ineffective start and ineligible for the win.  This will be the season when Hughes builds the foundation for his emergence in 2011 or 2012 as a solid number two starter for the long term.  But 2010 will not be a great season for Hughes.  In April and May, we'll still be debating whether Joba should be the fifth starter and Hughes should be in the bullpen.  Then Joba will be made a starter along with Hughes, and we'll move on to debate something else.   
Tamar: Phil Hughes will be one of the best fifth starters in the game. I believe that in this case, pitching out of the bullpen last season was good for Hughes. It helped him regain some of his confidence after some frustrating injuries. Do I think he is going to be gunning for a Cy Young, definitely no, but I do believe he will be a consistent and solid fifth starter for a team that really didn't have that in 2009.
Jason: Hard to get a feel for what to expect here.  Probably 20-25 starts and 150 innings, with a few RP appearances thrown in.  A high 3's to low 4's ERA and a solid WHIP would be a huge win for the Yanks.  Even with a strict pitch/innings count, if the bullpen is as good as it is on paper, he could still manage to win 12-14 games. 
–
BONUS: VAZQUEZ:
Larry: I think he'll revert to about his statistical average (13-11, 4.45 ERA, 1.35 WHIP).  He'll keep us in games and eat innings.  Despite the mediocre numbers, I think he'll earn a number of important wins and be regarded (not Granderson) as the off-season acquisition that allowed us to make the playoffs (since I'm also expecting at least one starting pitcher to miss significant time owing to injuries, and for Joba to be returned to the rotation as the fifth starter by mid-June). 
–
4.       Your prediction for the most important off-the-field Yankees story/distraction in 2010.
Will: Frankly, I don't expect a ton of drama off the field, unless it's allegations of steroids resurfacing around A-Rod. Perhaps Steinbrenner's declining health? Alex decides to have pictures painted of himself as a mermaid? Who knows. This stuff ain't my specialty!
TCM: "Important" is such a relative term.  Whether or not he redeemed himself doesn't matter in the long run.  What matters is his performance, which was excellent as usual.  And the empty seats behind home plate didn't actually matter, because the Yankees still made money hand over fist.  The Yankees won the World Series.  Ultimately, how distracting were either of these stories?  Jeez, you guys need to turn off the sports radio every once in a while.  Read a damn book.  Anyway, my guess is that this year's frivolous, meaningless controversy that all of you wring your hands over but that ultimately doesn't stop your juggernaut is that Jeter and Minka Kelly will break up (because she's totally hot for me), and Jeter will slump, the media will paint her as the devil, and Jeter as the golden god who cannot cry, and at some point there will be a sex tape.  Here's the real story for 2010, the team will suffer from a rash of minor injuries that lead to the sudden realization that, gasp, nobody plays forever, and the Yankees need to get serious about their long-term future at non-catcher positions.
Mark: I imagine the biggest distraction early in the season will be some anxiety about whether the Yankees picked the right starter out of Hughes and Chamberlain. As the season nears its conclusion, there will be some more unnecessary worries about the contracts of Mariano Rivera and Derek Jeter. If you want a sleeper story, I'll take Jeter's declining performance and how it will affect his next contract.  [Can I take a repeat of "Why isn't there anyone sitting in the expensive seats?"]
Larry: Dr. Anthony Galea.  By mid-season, he'll be accused of dispensing HGH to athletes to promote recovery from injury.  Both A-Rod and Tiger Woods will face scrutiny as a result.  Since we're making predictions, I predict that A-Rod will deny using HGH in 2009 (and that he'll be telling the truth), but that a cloud of suspicion will linger, and that we'll debate whether this matter is affecting his performance and the performance of the Yankees.  Our friends by the bay to the North will offer sage counsel, based on their experience last year with David Ortiz.  (I'm not predicting that performance-enhancing drugs will become a bigger issue in baseball – that's not a prediction, that's a certainty.  Sadly enough.)
Tamar: I think that the Yankees have learned to deal with most of the off-field stuff pretty well after last season. The one story that could become a distraction would be if Mo or Jeter is called to testify against Roger Clemens and actually say that they knew/saw something going on. Otherwise, it's just another baseball season in the Bronx.
Jason: I hope that the Yanks season is PED-news-free, including the Galea stuff.  I've had enough of it all.  So what will the distractions be?  The looming free agency of Jeter, Mo and Girardi… and to a lesser degree Vazquez if he's pitching well.  What else?  Jeter will get engaged. ARod will have a monster season and will not have any other PED dealings once (hopefully) cleared from the Galea stuff.
–
5. Biggest Yankee midseason pickup?
Will: Well, this question means two things: One, who do you think will get injured on the Yankees and require a replacement? Two, do we need a better left fielder STAT?
To the latter, I think no. Don't be surprised if Granderson is playing LF and Gardner CF by midseason, though. The most likely injury is probably to Pettitte or Posada, as I mention above. If Posada goes, it's really a tough call–what first string catcher would be worth trading for, especially given the Yankees' stockpile of catchers in the minors? If Pettitte goes, then there's any number of players who could be considered. Don't be surprised if Cliff Lee is back on the chopping block, if the Mariners are out of the race. Same with Brandon Webb or Ben Sheets.
In the end, barring injury (and even with some injuries) I see little reason for the Yankees to go out and spend assets to acquire anyone, unless there's a major injury.
TCM: With all these nagging injuries I think they'll suffer, and because they're the Yankees, I have a hard time believing the Yankees will sit on their laurels this season with the roster they have.  I think that Carl Crawford will stay in Tampa all year, because the Rays figure to compete and may be inclined to take the draft picks anyway.  I think they'll either look to Adam Dunn or Josh Willingham to fill the DH or LF spot respectively.  If Gardner totally flops, they could also look to acquire a similar player, like Coco Crisp or Ryan Sweeney from the A's.  Vlad Guerrero could also make sense, if the Rangers stumble, but again, you're looking at a serious injury risk.
Mark: I'll always worry about Jorge Posada's health, and I think he'll hit the DL for a significant chunk of time. If he does, look for the Yankees to deal for a catcher – David Ross, Chris Snyder, Bengie Molina – to hold down the fort (Ross and Molina's expiring contracts make them the most likely). Jesus Montero is a great prospect, but I don't think they'll throw a rookie behind the plate for a pennant run.
Larry: I don't think there WILL be a significant mid-season pickup.  I think the Yankees will wait until free agency at season's end.   But if there is a significant pickup, it will be a left-fielder.  Carl Crawford?  Maybe.  I have no idea.
Tamar: I honestly have no idea about this one.
Jason: Pick from the list of pending free agent pitchers: Lee, Lilly, Harden, Sheets… or a current closer who's team is out of it like Heath Bell, Chad Qualls (2011 FA), Frank Francisco (2011 FA) or Matt Capps (20110 FA).
-=-=-=-=-=-=-=-=-=-=-=-=-=-=-
Thanks again to Will, TCM, Tamar, Larry and Mark for their time and effort.  This was a fun way to kick off the season.  Expect to see some material from the new guys soon! We'll have a full preview coming Sunday night, hopefully in time for the FIRST GAME!!!