You'll need a handy currency conversion tool, but you'll get the point just with this: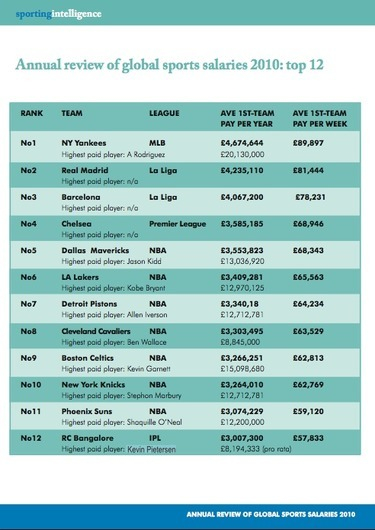 The New York Yankees are the best-paid team in global sport measured by average first-team wages, ahead of Real Madrid, Barcelona, Chelsea and basketball's Dallas Mavericks, according to the inaugural Annual Review of Global Sports Salaries (ARGSS), to be published this week by sportingintelligence.
The average first-team pay at the Yankees was £89,897 per player per week in 2009, or £4.7m per player last year, when the Yankees won the World Series – the biggest prize in baseball. Real Madrid's stars earned £4.2m per year each in the period reviewed for Spanish football. The corresponding figures were £4.1m at Barca, £3.59m at Chelsea and £3.56m at the Mavericks.
Like the anti-Yankees fans needed any more ammo…. Not even the crazy Premier League soccer/football teams can catch the Yanks! Continue reading Yanks top in total GLOBAL team pay→