2010
| | |
| --- | --- |
| Name | FIP |
| Mariano Rivera | 3.25 |
| Joba Chamberlain | 3.85 |
| Chan Ho Park | 4.45 |
| Damaso Marte | 4.10 |
| David Robertson | 3.58 |
–
1998
| | |
| --- | --- |
| Name | FIP |
| Mariano Rivera | 3.48 |
| Ramiro Mendoza | 4.08 |
| Jeff Nelson | 3.96 |
| Mike Stanton | 4.67 |
| Graeme Lloyd | 3.75 |
–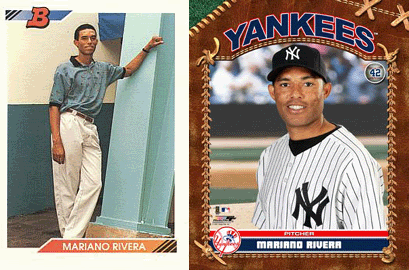 I don't know, those bullpens look pretty similar.  The '10 Yankees might have a slight advantage, but our projection systems have a huge discrepancy on Rivera (.6), Chamberlain (.59), and Robertson (.36).  If Rivera and Chamberlain dip to one extreme or the other, it will throw off our analysis.  Also, Joba has the same problem as Hughes above, where Marcel is still projecting him as a starter, or at least a swingman.
We also have to contend with the fact that the '98 Yankees played in a higher run-scoring environment than the '10 Yankees are likely to, and that FIP (I don't think) doesn't account for era and ballpark and whatnot.  Given that the competition in '98 scored almost .2 runs per game more than the 2009 American League, isn't that a ringing endorsement of the '98 team's run prevention?
Finally, we weren't really able to delve into the defensive numbers during this debate, since there's some legitimate concern over those numbers' reliability.  The Yankees in 1998 had a 3.82 ERA, but an FIP of 4.19.  Why such a discrepancy?  Because according to both Fangraphs and BR.com, the Yankees led the Majors that year in BABIP (though the two sites disagree over the exact number, at .284 and .280 respectively).  According to BR.com, the rest of MLB hit .300 on balls in play in '98.  So while the pitching was not solely responsible for the team's low ERA, we have to acknowledge that that represents some pretty terrific defense on the '98 club's part that we can't account for using individual defensive tools we have available (or at least I can't, not being a mathematician).  And it's hard to suggest that the club's performance was a fluke, given the sheer number of plate appearances (6,100) that we're talking about. 
Now, the '09 club did have a .292 BABIP (against .299 for the league), and it did upgrade it's outfield defense with the addition of Curtis Granderson and the subtraction of Johnny Damon.  However, Granderson's got to cover a lot of ground to make up for .12 points of batting average across 6,000-6,500 plate appearances, particularly if Jeter and A-Rod feel the effects of their age in the infield.  Overall, I think it's clear that the '98 Yankees were better at preventing runs than this current club is going to be.  And no matter how good or bad the pitching is, overall run prevention is still the name of the game. 
But I look forward to Will trying to prove me wrong.
=-=-=-=-=-=-=-=
The Common Man also writes about baseball writ large on his own site three days a week, and you can follow him on Twitter.