ARod's comments sure pleased me: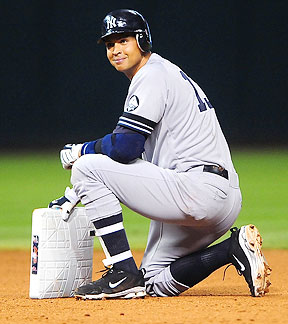 A-Rod's homerless streak reached 26 at-bats as he continues his pursuit of No. 600, but a 2-for-5 night in the Yankees' 8-0 win left a big smile on the third baseman's face.
"I liked my approach better tonight," Rodriguez said. "The more I can think about the team, how I can help the team win and be productive, the better it will be for the team and for everyone."
A-Rod is 8-for-26 (.308) with six RBI since he hit No. 599 last Thursday in the Bronx, but his homerless streak between 599 and 600 now stands as the longest by any player pursuing the milestone. A-Rod had been tied with Willie Mays at 21 at-bats entering Wednesday night.
"Thinking small is what we need," Rodriguez said. "If I keep the frame of mind of trying to do the little things and help the team win, it's going to be a lot easier."
Home runs sure help a team win, but not if they come at the expense of the rest of his game.  So when is #600 coming? Well, if you believe in numbers, he's due. Really due.  His historical HR rates:
Almost 23 AB's between home runs this year, by far his worst HR rate in a decade.  He's gone 26 AB's since hitting #599.  So if you want to bet on baseball and guess that the elusive #600 is coming really soon, I wouldn't blame ya. Put a few scheckels down for me, too.
I'm not in the prediction business but the law of averages tell us that #600 will be here shortly. I'm just sick of the obsession over it. Let it happen, MSM. And cheer it when it does, but let's get back to the focus of winning games rather than celebrating non-record-breaking milestone moments.