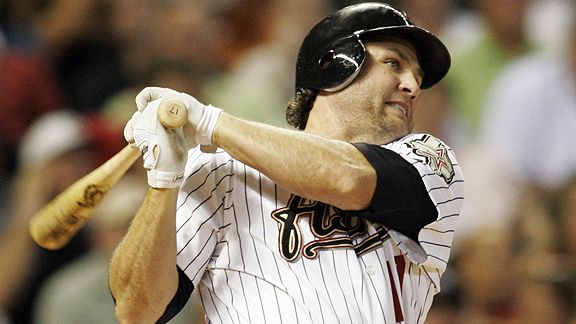 As I'm sure you've heard by now, the Yanks have acquired 1B/RF Lance Berkman from the Houston Astros and OF Austin Kearns from the Cleveland Indians. Kearns was traded for a PBTNL, Berkman (aka Big Puma and Fat Elvis) will head to New York in exchange for AAA reliever Mark Melancon and low-A second baseman Jimmy Paredes. The 5 mil remaining on Berkman's 2010 salary will be picked up by the Astros, along with the 2 mil buyout of his 2011 option.
Berkman's having a down year, but has maintained relatively good production (123 wRC+) and has been better of late (.925 OPS since July 1st.). Power's down a bit, his .191 ISO is the lowest mark of any full season in the bigs. But power numbers can fluctuate wildly in small samples, and I hate comparing full seasons to partial for that reason. Sluggers tend to hit them in bunches, as the old line goes. You have to like having a switch hitter coming off the bench for late inning match ups as well. Berkman is comfortably a Type B free agent, but as we've seen in recent years that doesn't mean the Yanks will wind up with a draft pick. It's highly unlikely a bad-bodied 34 year old whose production is declining will be offered arbitration coming off a big contract and his prime earning years. So rather than go to arbitration where the Yanks will risk having to pay him something close to his 14.5 mil 2010 salary, chances are they'll just let him walk. Don't be surprised if he winds up back in Houston, aka as "the womb" for Lance. Berkman's known to be a very good guy in the clubhouse, so no issues there.
I have some questions about how much playing time Berkman will get with Jorge Posada's balky knee. The cyst in the back of Jorge's knee prevents him from catching, but not hitting. So you have two switch hitters vying for time at DH in Berkman and Posada. But the Yanks may prefer to simply rest Jorge more going forward. He responded well with his bat to a reduced duties behind the plate this year, and with his injury history over the past 3 seasons it's clear he's breaking down and longer able to catch everyday. The most obvious use of Berkman would be righty-lefty OF/DH platoon with Marcus Thames, which would allow you to keep at least one butcher in the outfield most days, which is always nice.
After being ranked among the Yankees top prospects in 2009, Melancon has struggled this year. His H/9 has jumped from 6.3 last year in AAA to 10.1 this year. His walk rate has more than doubled (1.9 to 5.0) year over year as well. All indications are he's healthy, so maybe his struggles in the bigs last year affected him more than we know, but that's just a guess on my part. Paredes is a low ceiling middle infielder with little pop. Backup infielder at best on a team like the Yanks, so a trade is his best use.
Austin Kearns is a nice backup OF on a team like the Yanks who can flag 'em down (+11.4 3 year UZR in RF). Doesn't have a big platoon split, but he's a bit better against Lefties. Fans should like him in short spurts of playing time, but he's the type of player who'll fall short of expectations if you play him everyday. Think Melky with a slightly better glove. With Lance Berkman and Austin Kearns joining the Yankees today, Colin Curtis and Juan Miranda will likely be headed to AAA, and that's the best way to look at these two deals. Those are the two players they will be replacing on the Yankee roster, so it's obviously a big upgrade in both cases.
BTW-Here's a SI scouting report on Berkman from a while back.