Atlanta Braves vs. Philadelphia Phillies
The only other division with a close division race is the AL East's counterpart. The Braves sit 3 games ahead of
the Phillies with 31 games left, and Philadelphia is only 1.5 games ahead of San Francisco with St. Louis, and to a lesser extent Colorado (it's really hard to leapfrog 3 teams at this point in the season), a little farther back. Philadelphia might actually be in a better position, despite their 3 game deficit in the standings. All their stars are back, and a rotation with Roy Halladay, Roy Oswalt, and Cole Hamels could easily see a team run off a seven game winning streak. Atlanta, on the other hand, is hoping Omar Infante can keep up his dream season and that Derrek Lee could be helpful again, neither of which gives me confidence. Regardless, the division should come down to the wire with the schedules being fairly similar (the Braves get the Pirates but also the Cardinals while the Phillies get the Brewers, a game against the Rockies, and a few more against the Dodgers), and luckily for the fans, the Phillies and Braves matchup 6 times in the last 12 games, including the very last three games of the season. To top it all off, there will be all sorts of things written about the Braves trying to win it for Bobby Cox in his last season. Makes it all that more important.
St. Louis Cardinals vs. Cincinnati Reds
Brandon Phillips called the Cardinals something that was neither gender(ally?) or familial(ly?) correct. Then, the two teams got in an epic battle on the field complete with kicking, concussions, and bad feelings. Should be fun, right? Well, not really. The Reds and Cardinals only play 3 more times the rest of the season, and those games are this weekend. Also, the Cardinals are currently doing their best to lose the division and have fallen six games back. So, the only thing to see here is the Triple Crown race between Joey Votto and Albert Pujols, but Infante's doing his best to make that moot. Still, that race is more important than that of the AL East as it will determine the NL MVP.
San Diego Padres vs. San Francisco Giants
Well, the Giants are only 5 games back, but without an effective Tim Lincecum and with Bruce Bochy and Brian Sabean's insistence on placing Doric columns in the outfield, I have little faith in the Giants' ability to get back into the division. But should the Giants decide to climb back, they have 7 games left against the Padres, culminating in the last three games of the season when the Padres come to the Bay Area. My guess is that it won't matter, but keep an eye on it because I've been wrong before.
NL Wild Card
Philadelphia/Atlanta, San Francisco/San Diego, St. Louis/Cincinnati, and Colorado are all still within striking distance of the Wild Card, but Colorado would have to climb 4.5 games and 6 other teams to win (a shame because the Cardinals and Rockies play the last four games of the season against each other). The other teams don't really play each other all that much or late in the month, so there are no more potential match-ups there. However, only three games separate the top 3 Wild Card teams (PHI, STL, and SF), so there's a lot of potential for some melee. If we're handicapping, San Francisco is the first off the list despite the fact that they're second right now for the reasons stated above. That leaves Philadelphia and St. Louis. Before the season, I would've taken Philadelphia over St. Louis, and considering the Phillies added Oswalt and the Cardinals added Jake Westbrook while dealing Ryan Ludwick, I have no reason to go back on that thinking here. Philadelphia has the 3 game lead and the better team. Too bad, I think the playoffs would be better with St. Louis than either Cincinnati or San Diego, but that's not how the cookie crumbles.
Minnesota Twins vs. Chicago White Sox
Yeah, the White Sox just got Manny, but even if he could make two games worth of a difference, the Sox are still 2.5 games back. I'd feel better about this if Justin Morneau were going to come back and be effective, but I'm willing to declare this division dead because Minnesota has the easier schedule (like by far—Minnesota gets 6 games against Cleveland, 3 against Oakland, and 6 against the Royals while Chicago gets 7 against Boston, 3 against LAA, and 7 against Detroit). Still, any potential for an Ozzie explosion is worth waiting around for.
Texas Rangers vs … ??
Um, yeah, just no. You could watch and wish that Cliff Lee were occupying the spots held by the rotting corpses of AJ Burnett, Javy Vazquez, Sergio Mitre, Dustin Moseley (really?), or whoever else (Ivan Nova obviously gets a pass) the Yankees throw out there to the limit the hemorrhaging wound. So, there's that.
I'm actually somewhat disappointed by this month. There's nothing particularly interesting happening in baseball. The only division really in jeopardy is the NL East, and the NL Wild Card is the only other playoff race worth paying attention to. Other than that here are some other headlines:
The Triple Crown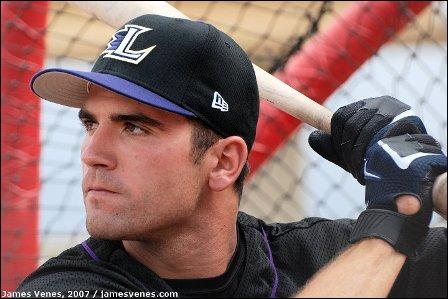 What's makes this even cooler is that it's an actual race for the Triple Crown. It's not just one guy trying to climb up there. It's two. It's somewhat reminiscent of the Mark McGwire-Sammy Sosa HR race in the passion it could create. I could go on about how it's ultimately meaningless and arbitrary, but if it creates some enthusiasm for the sport and its history, I'm all for it. Just remember two things for me—one, it is arbitrary and trivial, and two, Omar Infante is going to screw it up just like he did the All-Star Game. I even bet Charlie Manuel tells his pitchers to throw it down the middle to Infante just to quiet everyone talking about how much better Votto is than Howard, dadgummit.
Aroldis Chapman
Yeah, Strasburg's gone for the year, but he's not the only guy who can throw hard. Chapman threw 105 mph in Louisville last week, and while the stadium gun (I've been there, lived there actually, and know that the gun has to be 2-3 mph fast) is definitely fast and was probably made faster to generate some enthusiasm, he still throws incredibly hard. Any appearance should be a nice shot of adrenaline to the baseball season.
Trevor Hoffman and 600
I'm not sure if ESPN will cover this like ARod's quest for 600, and it's a shame Hoffman hasn't been more effective this season. But it's still a cool (though, yes, trivial) achievement. We all like nice round numbers, and while 600 isn't really any more important than 178, it's a good time to go back and appreciate a player who has by all accounts been a great pitcher and teammate.