I spent some time talking about Posada and 2011, his last year under contract: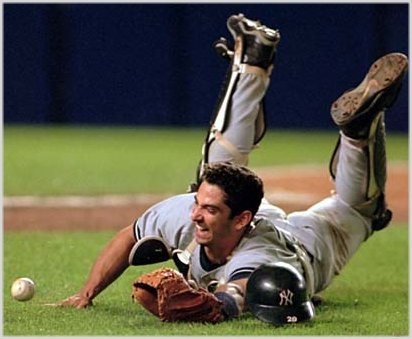 So what's going to happen next year when Posada will be another year older? It will be the final year of his 4 year, $52.4 million contract that he signed after Thanksgiving 2007. This contract, namely the 2011 year, is the biggest example of what I am always referring to the Yankees "hometown premium". There was no reasonable, rational reason for the team to give Posada the fourth year, other than for nostalgia. It was unreasonable to expect Posada to remain at his age 36 (or earlier) performance levels through age 40, as a full time catcher. It was just unrealistic then and it's even more troublesome now.  This hometown premium will rear its head when Jeter signs his extension and again as ARod ages (he's signed through age 42, seven years from now).
This team is already aging in the core. Yes, there's been a noticable trend towards getting younger, but the big guns on this team will need some DH/days off time next year, as they have needed this year.  And if Posada is unable to catch more than three of every five games, it makes things worse. Now, if Montero makes the leap in 2011 and plugs the void that Cervelli has been creating (since his early hot start), this is less of a worry. But no one is ready to count on Montero in this fashion, though I think every Yanks fan sure hopes so. It might mitigate the Posada Problem. Might.
Right now, I am just scared as heck to face the Rays and whoever we face in the ALDS  and watch them run with little fear of getting caught.