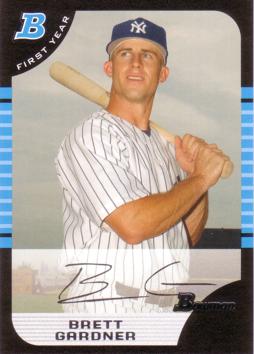 Last night was another rough night for Brett Gardner. He went 0-4, including a failed sac bunt, and looked pretty bad doing so. On that failed sac bunt…I think it's safe to say that it's time to halt the Brett Gardner as bunter experiment. The Yankees have been trying to get him to do it well since last year and it's just not working. Gardner clearly doesn't possess the skill to bunt and the Yankees need to stop forcing it. Gardner has shown that, if nothing else, he's able to work the occasional walk and that's more valuable than dropping down a crappy bunt every now and again. I say let him take his pitches and work his way on that way. But….
Gardner just isn't hitting right now. He's also not doing the whole base stealing thing, either. And, as mentioned before, the bunting isn't there. So, what can the Yankees do if this continues? They've already done one thing, and that's to drop Gardner back down to a low spot in the lineup. That makes complete sense and the Yankees should get props for recognizing it early. So, here's props.
The next route would be to eliminate the platoon and just make Andruw Jones the full time left fielder. This isn't completely undesirable, considering the fact that Jones has been a full time player for most of his career. However, he's been relegated to platoon duty of late after 2007 (.304) and 2008 (.207!) saw Jones post miserable wOBAs against right handed pitching. But, in every year other than that (since 2002), he has a wOBA of at least .337 against right handed pitchers. I think I'd feel comfortable if the Yankees wanted to make Jones the full time left fielder, so long as they think his body could hold up.
The extreme option–if this slump becomes even more prolonged–would be to option Gardner back down to the minors. I don't see this happening unless Gardner really bombs and can't correct himself after about 100 PAs. At that point, we could hear the Scranton Express coming for Brett with Chris Dickerson or Justin Maxwell on board to take Gardner's place in the Bronx. In that situation, I'd imagine they'd go with Dickerson since he's left handed, but I don't think the difference would be huge. If that happens, I think Jones would already be the starter.
There's also the trade market, but it's not developed at all this early in the season and speculating about any sort of trade would be irresponsible and unfounded, so I won't do that here. By all means, though, feel free to discuss any trade possibilities in the comments.
I'm inclined to give Gardner the benefit of the doubt here, since I'm always confident in a guy who can work walks and play good defense. However, if he can't work those walks and is struggling to make even decent contact, then it's a problem.