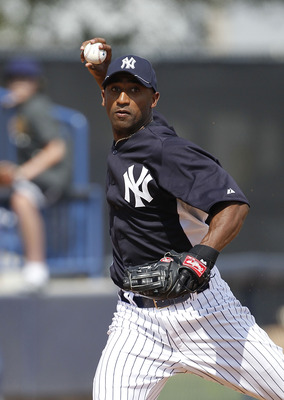 On the heels of Yankee prospect Eduardo Nunez throwing away the game on Thursday afternoon, many fans were at their wits end. He committed his 2nd throwing error of the game, his 5th error in just 22 innings (17 games) of playing time this year. You can't keep a job on a High School Varsity team making errors at that rate, much less on a team with annual championship aspirations like the New York Yankees. But for the same reason it would be unfair to judge any player on such a small sample, it's equally unfair to make judgments about Nunez and his ability to play at this level.
Not only is it unfair, it's also uninformed. In their "Best Tools" category, BA gave the nod to Nunez for "Best Infield Arm" in the Yankee organization in 2009 and garnered both best arm and "Best Defensive Infielder" in their 2010 rankings. There are certainly questions about whether Nunez will be an everyday regular on a championship team like the Yankees, but those questions are related to his bat, specifically because he "lacks selectivity and has fringy power" according to Baseball America. Defensively, they say "His best tool remains his plus-plus arm that allows him to make highlight plays from the hole". He's certainly made the highlights lately, but for all the wrong reasons.
So if he's such a good defender, what's going on with him? Two things. First, he's out of position playing 3B. He got high marks in the minors for his ability to play SS, but even there would at times rely on his plus arm too much, which would lead to throwing errors. This tendency is magnified playing 3B, as Alex Rodriguez explains:
"For one, depth is an issue; he could play a little bit more shallow. Once (the first baseman) catches the ball, the runner's already at first base and it creates a lot of pressure on the throw. If you can come get the ball a little bit better and give Tex a little bit more margin for error, even if he jumps for that ball, he comes back down on the bag for an easy out. That just comes with timing and working on your personal clock. I'm sure Mick (Kelleher) and Thomps (Rob Thomson) will be on him pretty good.
"You don't play shortstop with your arm; you don't play infield with your arm. Arm is just a plus. Infield is only played with your legs. You've got to come get the ball, narrow the path and narrow the throw. If you're throwing 160 feet every time, that's a lot of pressure. If you make that 135 feet, it makes it a lot easier play. That's something he's going to get with time. It's a little bit complex, what I'm trying to explain.
"I made a lot of the same mistakes. If you talk to most young shortstops, they do a lot of that. You've got to come get the baseball. It's narrowing that throw. That's a long bridge from shortstop, so the more you can come get the baseball and attack the base when you throw; I think he's going to be fine. Having a strong arm does help – and he's got a cannon."
When Alex says he made some of the same mistakes, he's not just being kind. Fans may recall Alex went through a bout of wildness of his own. In 2006 he committed 24 Errors, matching his career high from when he was a 21 year old in Seattle. Of those 24 errors, 14 of them were throwing errors, 5 coming in one week and 3 in one just game. For context, he made just 2 throwing errors the year prior, and 4 throwing errors his first season at 3B in 2004. Fans were questioning at the time if he was turning into the next Chuck Knobloch, questioning his psyche and his ability to play under the pressure in New York. But as Alex explained, it was just a matter of getting into some bad habits and playing the position with a Shortstop's tendencies. It appears the same thing is going on with Nunez, and as with Alex, it is easily correctable.