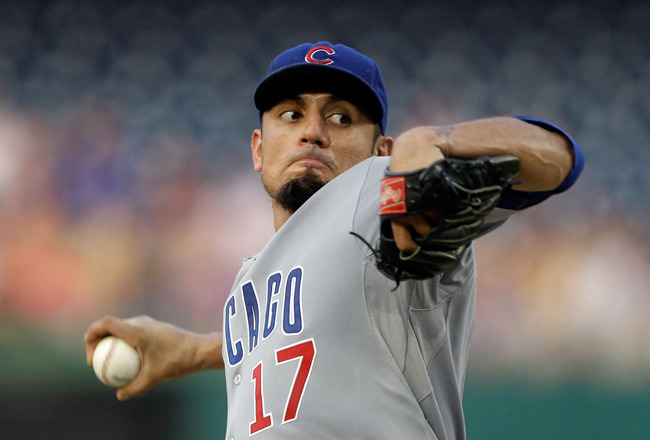 One trade name that has popped in recent weeks is that of Matt Garza. We know for a fact that Yanks were scouting him recently, but have heard mostly negative reports on his availability. The Cubs just gave up 3 of their top 4 prospects to acquire him, and with one more year of team control and a low price tag this year (5.95M) considering his production (2011 WAR-2.9) you figure it will cost plenty if he is made available. But the Cubs are out of it, so a package of MLB ready talent may make sense for them where they fill multiple needs heading into 2012. Yankee GM Brian Cashman may have a package of prospects he'd be willing to part with for rotation help this year that doesn't upset his depth chart too much, and could shop around a few places to see if he gets any nibbles. We all know the Yanks could use a #2. Is Garza worth it?
Based on this season's numbers, the answer is a resounding "Yes". On the surface, his 4-7 record and 3.80 (NL) ERA doesn't scream '#2 starter' to the average fan. But looking deeper at the numbers that really matter, and you see an outstanding starter on a bad team. His K/9 is a career high 9.08 this year (7.36 career). His 2.92 FIP  is almost a full run lower than his ERA. His 48.2 GB% is outstanding for a pitcher who misses as many bats as he does, and is well above his career mark of 40.7%. The only pitchers with higher GB% and K/9 above 8.0 are the likes of Gio Gonzalez, Felix Hernandez, Tim Lincecum, Roy Halladay and Cole Hamels. None of those guys are even remotely available. As a veteran of both the Twins and Rays, we know he can pitch in the AL East. His Home/Road splits are pretty stark, but a quick look at his game log shows that to be a result of a few bad outings and small sample noise. Velocity has held steady, and has even gone up a tick this year. He's been remarkably healthy, making 30+ starts every year since 2007. He looks in every way like a top flight pitcher who at 27 is just entering his prime.
If Brian Cashman has a package in mind that he's willing to part with, and it's enough to land Garza but not Jimenez, I make that move. The difference between 2011 Jimenez and Garza isn't enough to pay significantly more for one over the other, and one could argue there are less red flags attached to Garza than Jimenez. Now we just have to wait and see if Cubs GM Jim Hendry is willing to listen.