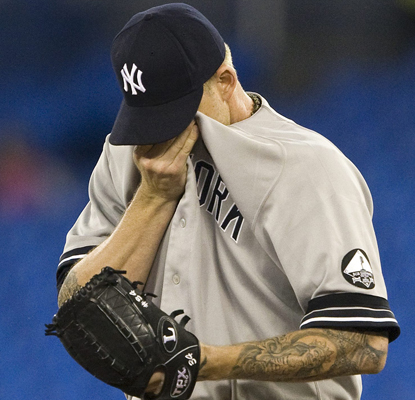 This past week, there were two outstanding, granular breakdowns on what's been going on with AJ Burnett this season. Mark Simon of ESPN looked at his curveball, and found that in his first 6 starts out of the All Star break, he allowed just 15 hits on that pitch. But recently has see the movement on the breaking ball go from a 6 inch vertical break to just 4 inches leading up to the Twins game last week where he gave up 7 runs in just 1.2 IP. So for whatever reason, be it fatigue over the course of a long season or the diminishing of his stuff at this point of the season due to age, he's not getting the same break on his curveball. Further, he found that he's throwing the pitch right over the middle of the plate recently, which he rarely did prior. Here's a quick chart from the article showing the breakdown on the pitch:
A.J. Burnett
2011 Season
| | Before Break | After Break |
| --- | --- | --- |
| Outs with Curve | 128 | 43 |
| Hits vs curve | 16 | 15 |
| K with curve | 73 | 19 |
The next came from Jonathan at RLYW which looked at how he fares on pitches up and down in the zone. He found that Burnett's knuckle curve has been his overall best pitch, especially when located down and out of the zone. As good as his curve has been (or was, before August) his fastball has been equally horrendous. The money quote was this:
The decline of his fastball is probably the biggest culprit here, as hitters are putting up a .439 wOBA against it, ranking him in the bottom 1% of the league (Only Edinson Volquez and Kyle Davies have been worse with their fastballs). That number has been increasing every year since PitchFX data began keeping track (2008: .364, 2009: .385, 2010: .403).
The takeaway? His stuff simply isn't as good as it used to be. Look at his contact rates on pitches outside the zone. They've exploded from a low of 36.8% in 2005 (last year with Marlins) to 60.7% in 2011. A swing and miss pitcher like AJ makes his living on those pitches, and he's just not missing bats like he used to. Of course, pitchers (emphasis mine) can do well with far less velocity than AJ currently sports. But AJ has never had the type of control or variety of arsenal that would allow him to get by with less velocity. He's among the league leaders in Wild Pitches on a near annual basis, and even an outstanding defensive catcher like Russel Martin has been able to do little to prevent another top showing in 2011. The Yanks have tried to get him to incorporate the change up more this year (and he has) but its still a pitch he's employed just 10.5% of the time. It's an average pitch in terms of effectiveness, but that doesn't mean its good, just that hitters aren't looking for it since the overwhelming majority of his offerings are fastballs and curves.  In the minds of hitters he's still a 2 pitch pitcher, so hitters always have a pretty good idea of what's coming.
AJ has always been all about pure, raw 'stuff'. His ability to make hitters uncomfortable with a 95+ fastball and devastating curve. At age 34 with a long rap sheet in terms of health, the stuff has diminished. The fastball has been declining in velocity for for the past 5 seasons, from a high of 95.9 MPH in 2007 to 92.7 MPH this year. Anyone who watches the catcher's glove when he pitches knows that he's never had the ability to paint the black with it consistently. We've been through two pitching coaches, neither of whom has been able to get AJ to be more consistent with his control or have him make the adjustment from thrower to pitcher. Brian Cashman can decry the Oliver Perez comparisons all he wants, in my estimation they are apt. He's lost the ability to make hitters uncomfortable with his stuff, and has never had a Plan B. This isn't a bad stretch or small sample, but a steady annual decline in the velocity and effectiveness of the fastball. He hasn't had a quality start since the end of June, and has given up 30Runs and 44 Hits in just 22.2 IP for the month of August. The good news is you won't have to watch much more of this, because the Yanks can't continue to run a guy out there who doesn't give the team a chance to win.