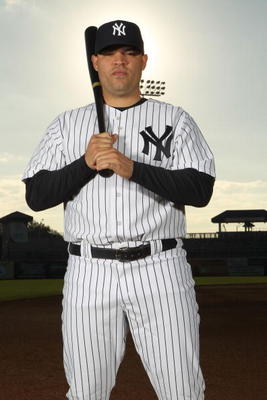 Some of you may have groaned when you read that title. I fully understand why you would. Anyone familiar with the Yankee farm system knows he has enormous issues with plate discipline. He strikes out so much that he could make Jack Cust look like Tony Gwynn. He has shown little ability (or perhaps interest) in drawing walks, taking his 3 true outcomes down to a measly two. He would be the 2012 edition of Shelly Duncan, and we all remember how quickly that star faded. What follows is not going to be an impassioned plea for the Yanks to select Vazquez with best-case projections on how he'll perform this year. Rather, its a breakdown of what's available at DH, what they as free agents will be looking for, and what the best move for Brian Cashman may be.
First, let's define the need. The Yankee DH role is open, but not completely. Buster Olney recently posted in his column that the Yanks are looking to give A-Rod 25-40 games at DH next year to keep him healthy and on the field. Derek Jeter will spend some time there as well, though I'd estimate about half as much as Alex. In late December the Yanks re-signed lefty masher Andruw Jones, who figures to spend much of his time at DH facing southpaws. The aging Jeter is also best used facing left handers as DH, posting a .349/.423/.523 facing them last year, continuing the platoon split tendencies our Matt Imbrogno wrote about in 2010. Tex will get days at DH here and there, but as a switch hitter he figures to start facing right handers. A-Rod has handled righties and lefties equally well over the course of his career, so the 25-40 games figure to be mostly facing righthanders. Left handed pitchers typically represent about a quarter of the pitchers you'll face in any given year. So lets total this up. About 40 games at DH go to Jones/Jetes facing lefties. Another 35-40 go to Alex/Tex. That leaves you roughly 80-85 games open at DH facing right handers.
Now let's look at the options available as free agents. As RABs Joe Pawlikowski detailed Carlos Pena is clearly the best choice, but as he also noted he made 10M last year. There's a fundamental problem with the job the Yanks have available. If you smash lefties, you're a bench player and a dime a dozen. If you smash righties, you're typically an everyday player and as a FA will demand to get paid. Further, year to year players like Pena will generally opt for the place that offers the most playing time if the money is anything close to being similar. He needs to produce so he can earn another deal for next season. Offering 'a chance to win' typically falls on deaf ears in these situations, and you can't blame them. They're athletes with a very short window to earn big money and they want to maximize those opportunities. Wilson Betemit has hit righties well the past 2 seasons, but unfortunately he falls into the same category as Pena on playing time and position. Jon Heyman is reporting the Yanks have 1-2M to spend on a DH. That won't be nearly enough to land Pena. It should be enough to get Betemit (who earned 1M last year) but will the Yanks be able to offer enough playing time for him? Will he be happy as a DH? If another team offers him even a part time 3B/1B job at similar money, I would think he'll take that offer. Make no mistake, Pena and Betemit are the best options available, but I have my doubts the Yanks will be their choice when they're looking at all their options and what makes the most sense for them. Showing an ability to play the field enhances your value, and both of those guys have defensive positions they'll be looking to play when they choose a team.
Next we have the old guys. This group includes Johnny Damon, Hideki Matsui, Vladimir Guererro and Raul Ibanez, all of whom have contacted the Yanks looking for a gig this year. Let's do them in order. The 38 year old Damon seems to be slowing down, his .326 OBP being his worst showing in that category in 10 years. He posted a respectable .743 OPS in 2011 but wasn't as good facing righties, whom he put up an uninspiring .715 OPS against.  Old friend Hideki Matsui had a tough task hitting in Oakland last year, and had the worst season of his career (.696 OPS). But he wasn't much better on the road (.729 OPS) or facing righties (.654 OPS). Valdimir Guererro's 101 OPS+ tells the story of his 2011 campaign, he was right around league average wherever you look, platoon splits included. Raul Ibanez had a poor 2011 season (.707 OPS) and while lefties ate him up as always, he wasn't much better facing right handers (.747 OPS). In 2011 the average DH had an OPS of .776 and a wOBA of .338. The Yanks are a championship caliber club that is looking for high end production, above league average at the position. None of these guys look like they can deliver it.
Someone who has expressed an interest in coming to the Yanks also fits the bill in terms of production, namely Eric Chavez. He owns a career .866 OPS facing right handers, and is willing to take a part time role. He's excellent defensively and would make a fine caddy at either 3B or 1B on the days when A-Rod or Tex are at DH. But as we saw last year, the brittle Chavez had difficulty staying healthy even playing part time for the Yanks. If you sign Chavez you have to expect him to hit the DL at some point, and thus the Yanks will be looking at internal options.
That leads us to Jorge Vazquez. I'm not sure he can deliver elite production. The benefits of breaking camp with him are he's young, cheap, under team control and has options left. He won't hit for average, won't draw many walks, but when he does connect the ball may travel 500 feet. As someone who strikes out a lot he won't screw up rallies by putting the ball in play and hit into 6-4-3 DPs. As a right handed hitter he wouldn't appear on the surface to be a good fit, but he hasn't shown a significant platoon split throughout his time with the Yankees, slugging around .500 facing pitchers from either side. Last year he was pretty even as well, posting a .818 OPS against righties. You play him in April and May and hope that he hits maybe a dozen HRs before the fairy dust wears off and the scouting reports catch up to him, at which point you're close to mid season and see what you can find on the waiver wire or via trade market. No, this is not an ideal option. It's probably not even a very good option. Will it cost the Yankees games? Hardly.  You're not counting on Jorge Vazquez to win you games, just get you to the trade deadline. Looking at the DH marketplace, the guys who you really want most likely won't sign here, and the ones that are left aren't much better.